I started knitting on the Irish Hiking Scarf a week ago or something like that and thought I'd better join this KAL!
I'm making it in
Drops Alpaca
, colour way 3900. I'm knitting with two strands of yarn on 5 mm needles to get the right gauge. So far the scarf is 105 cm and if I use four balls of Alpaca (200g of yarn) the scarf will be about 160 cm. I don't know if I want it that long though, how long have you made yours?
here's a picture of my progress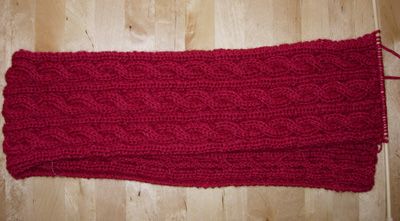 I just love it and can't wait til I can wear it. When I'm done with the scarf I'm planning to make a hat to go with it.